Learn from front-line stories
Africa ELI team members are happy to receive speaking invitations from your civic club, school, church, or special group.
Discover points of connection and commonality with the young people in South Sudan. Join in driving meaningful change in the world's newest country. Hear stories from the field. Get your questions answered. Glimpse daily life in Yei.  See the smiling faces of Africa ELI students. Amplify your voice to positively impact the lives of South Sudan's daughters and sons.
Most presentations include a brief history about South Sudan, recent developments, our student programs, and how you can help Africa ELI continue bridging gender gaps through education.
Book a speaker
To schedule a speaker, please fill out the form below.
In your request, please provide the date and location for a presentation and the anticipated number of audience members.
No speaker's fee is required. However, if travel is required beyond the speaker's home community, please provide accommodations and arrange transport to your event location. Coordinate and prepare a spot for Africa ELI donations to be collected.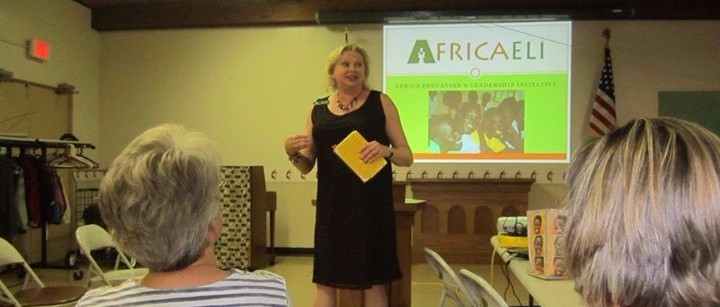 Please use the form below to request a speaker!
Previous Speaking Engagements
Schools
American University
Harvard University
George Mason University
St. Michael's College, Burlington, VT
University of Wisconsin
Janesville Academy for International Studies, Janesville, WI
International Organizations
The World Bank
Amnesty International, Knoxville Chapter
Civic Clubs and Community Organizations
Rotary Clubs
Kiwanis Clubs
Lions Clubs
Arnstein Jewish Community Center, Knoxville, TN
Women's Interfaith Dialogue Group, Oak Ridge, TN
Religious Institutions
Christ Church Georgetown
Northridge UM Church, Northridge, CA
Trinity United Methodist Church, York, SC
Westminster Presbyterian Church, Sparta, IL
Laurel United Methodist Church, Springfield, IL
School of Christian Mission, Springfield, IL and Stevens Point, WI
Non-profit Organizations 
Building Minds in South Sudan, Rochester, NY
Abukloi Enterprises, Inc., Lightfoot, VA
Media Outlets
Good Morning, Wisconsin
Live @ 5 at 4
WBIR Evening News
Corporations
PetSafe Headquarters, Knoxville, TN
Steelcase Incorporated Headquarters, Grand Rapids, MI
Professional Organizations
Knoxville Association of Women Executives