<!- -?php the_title(); ?- ->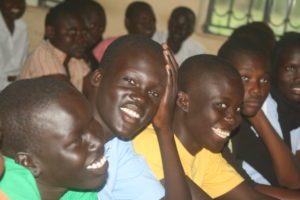 Africa ELI provides academic sponsorships through:
Girls Rising Sudan (GRS), which aims to educate and equip girls to become leaders in their communities.
The Morchinkegem Academic & Sports Scholarship (MASS) for girls and boys, which aims to build peaceful coexistence through education and sports.
The Laurie Fagg Sluder Memorial Scholarship for girls, which aims to carry on Laurie's love of learning and passion for empowering young women.
Africa ELI offers quality enrichment:
We implemented the Girls' Education Movement (GEM), in conjunction with UNICEF. We currently have GEM programs in Yei and Lainya Counties in Central Equatoria State.
We promote the development of student-led radio debates and school gardens:

Our radio debate program helps students develop essential communication and analytical skills while simultaneously teaching facts about health and community issues, which the students share with their peers.
Our school garden program teaches students valuable agriculture and teamwork skills, and

provides supplemental nutrition for students and faculty. Crop projects developed at schools include beans, maize, cabbage, tomatoes and eggplants. Additionally, we are developing animal husbandry programs, teaching students how to grow healthy and sustainable meat sources  for their families and communities.

We provide communications services, health care services, career guidance, mentoring, and reproductive health information.
"Holiday School" Academic Enrichment Program: Africa ELI offers supplemental classes during term breaks that are adapted to different learning styles, helping improve comprehension of standard coursework.

Additionally, holiday classes offer students an opportunity to acquire specialized skills that can be used later for income generation and career development.
Holiday school also serves to reduce at-risk behavior by providing alternative ways for students to spend their breaks while school is not in session. It helps retain knowledge gained at school during regular terms, and builds a solid foundation for learning new knowledge in future school terms.
Curriculum and programming
Africa ELI's approach to secondary education is holistic. It promotes a safe and secure learning environment, wellness in mind and body, and development of real-world skills.
Health Sciences Curriculum: At select schools, we have integrated an innovative health sciences curriculum into student-focused activities on campus, coupled with practical lessons in agriculture. Academic courses include Political Science, Mathematics, Commerce, English, Geography, History, Physics, Biology, Accounting, Health Sciences, and Christian Religious Education as part of the government of South Sudan's curriculum.