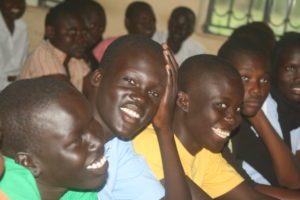 Africa ELI considers the education of girls and young women the single most effective solution to ending endemic civil strife in South Sudan. Without equal access to education for the country's children, South Sudan has little practical hope for effective development. Girls who lack access to educational resources are unable to assist in the elimination of chronic problems in their communities that include malnutrition, malaria, AIDS, gender-based violence, and poverty.
As we work towards our mission, our key projects include:
SCHOLARSHIP DISTRIBUTION
Africa Education & Leadership Initiative (Africa ELI) pays school fees for secondary students in South Sudan. Eligibility is based on student performance (merit scholars) and girl-child enrollment (Girls Rising scholars) at partner schools. Letters of request, personal interviews and school administration recommendations guide the selection of students to sponsor. The end-of-term exam results determine sponsorship for the upcoming term.
ACADEMIC SPONSORSHIPS
Merit scholars are approved Africa ELI-sponsored students who must achieve high performing marks each school term. Girls and boys are eligible.
Girls Rising scholars are females who have passing marks from the previous term.
The Laurie Fagg Sluder Memorial Scholarship Fund
The family of Laurie Fagg Sluder established a memorial scholarship which aims to carry on Laurie's love of learning and passion for empowering young women. Laurie was a daughter, sister, wife, mother, and friend to many. She filled 43 years of life valuing education. She was a speech language pathologist in Knoxville, Tennessee and participated in international mission trips. Contributions given through Laurie's fund are directed to the Girls Rising sponsorship program.
LIFE-SKILLS PROGRAMMING
To build retention, reduce at-risk behaviors, and prepare students for post-secondary experiences, Africa ELI has offered, and continues to periodically offer as funding allows, a variety of life-skills programming. Activities are open to all students studying in locations where Africa ELI scholars are enrolled. Since 2008 more than 5,000 young people have had access to one or more of the following program activities:
Health Outreach – raising awareness about health and good hygiene by volunteering at local hospitals, clinics, and PHCUs
Green Club – planting trees and promoting healthy environmental issues
Sewing Lessons – building skills for entrepreneurial work in tailoring, fashion design, and clothing repair / one-year sewing re-usable sanitary pads
Radio Debates – building confidence, improving communication and English-speaking skills
Leadership Development Workshops – providing students and teachers opportunities to learn about gender equity, meeting management, and styles of leading
GEM Club Training of Trainers – allying girls and boys to emphasize the importance of education for all (Girls Education Movement)
Sports – supporting school teams with supplies, First Aid items, and playing fees
Journalism Club – Providing access to journalists for improved writing and communication skills
Holiday School – tutoring and extra lessons during term breaks
Career Days – introducing various jobs and providing guidance in career selection
International Visitation – increasing awareness about the world and different cultures; offering access to broad teaching and learning styles